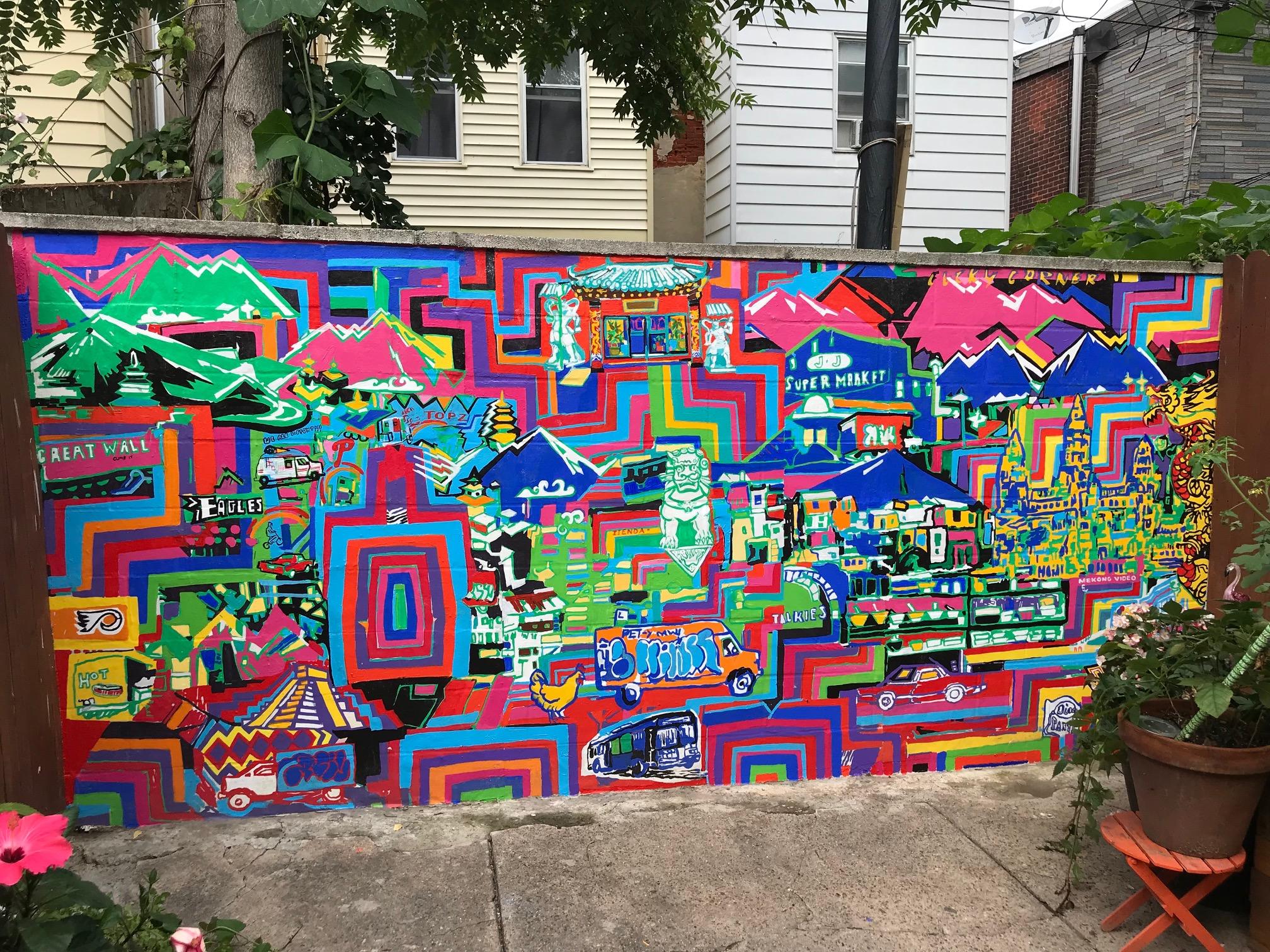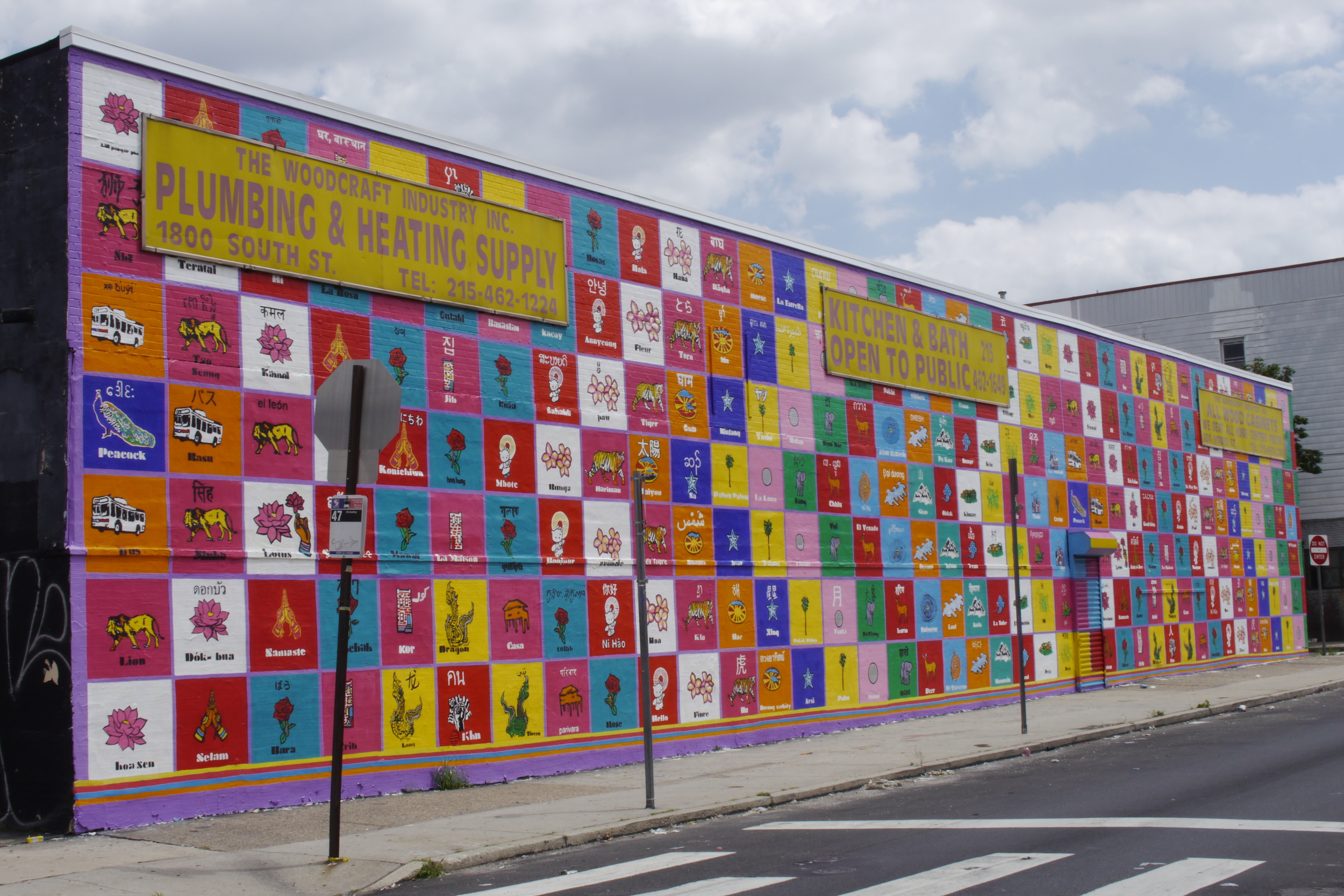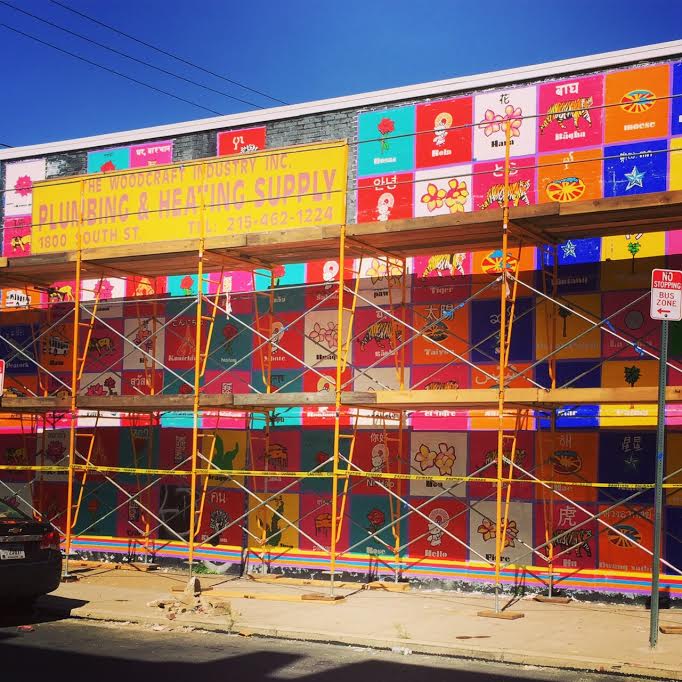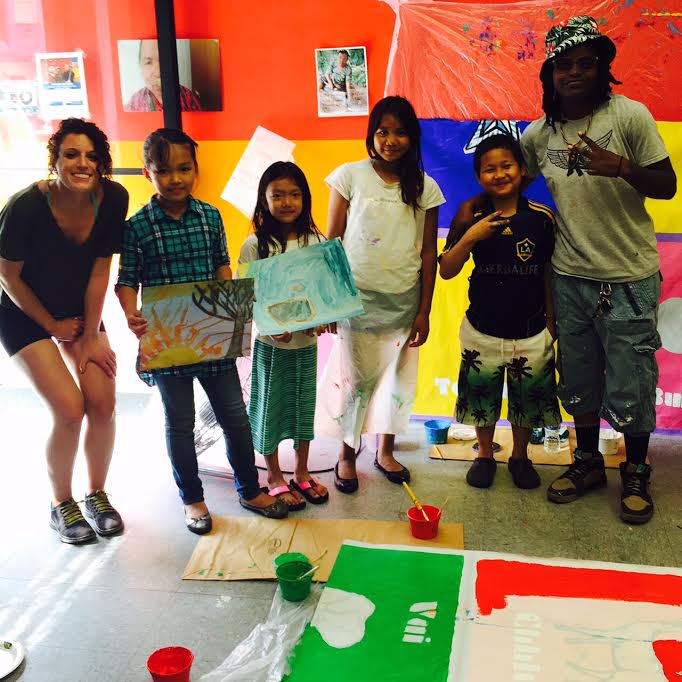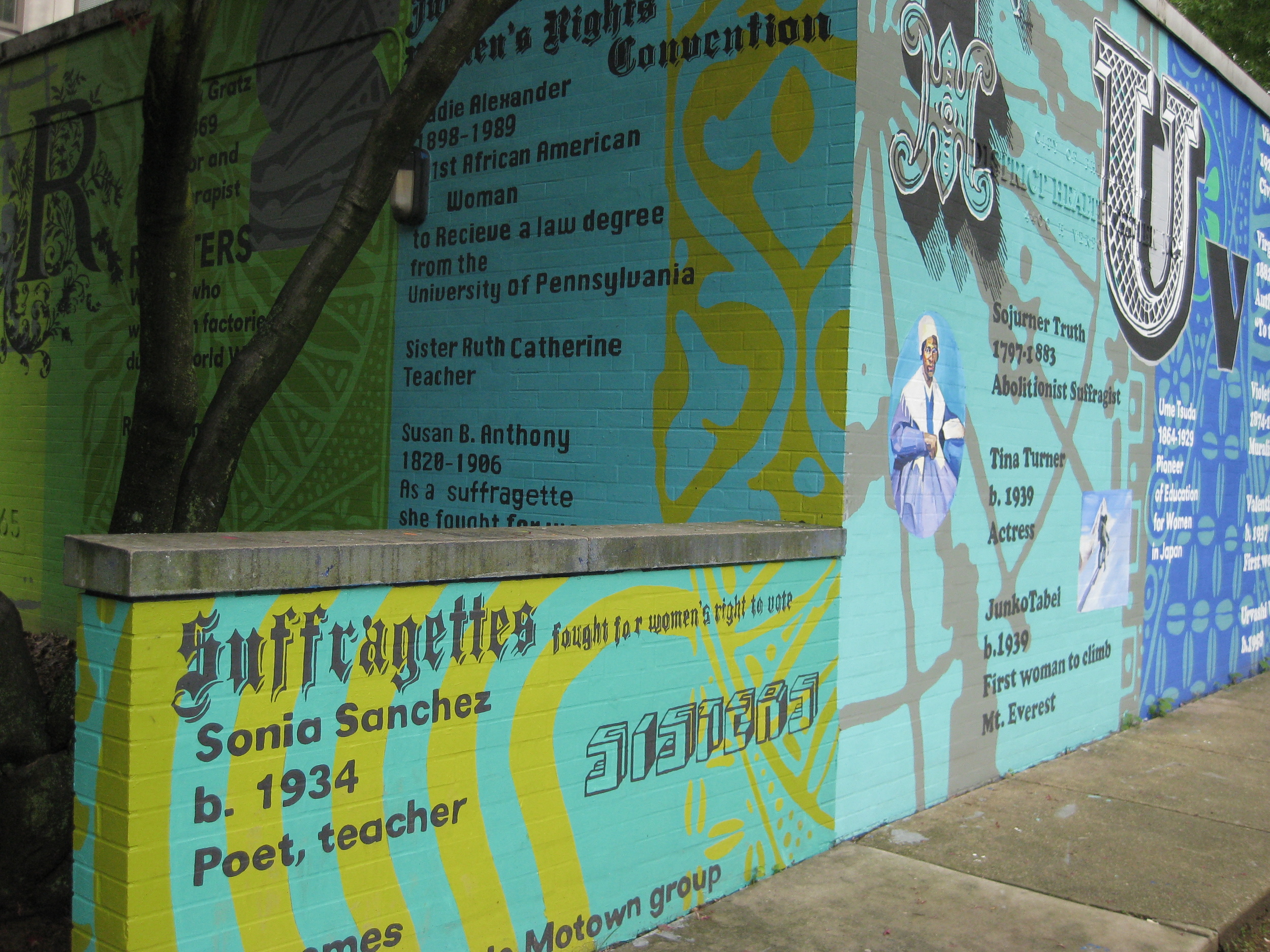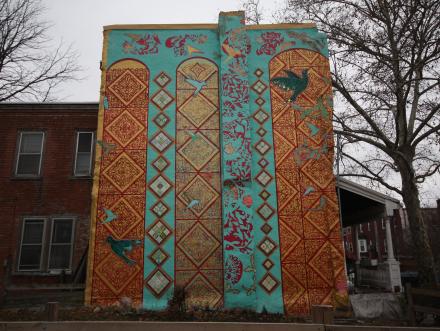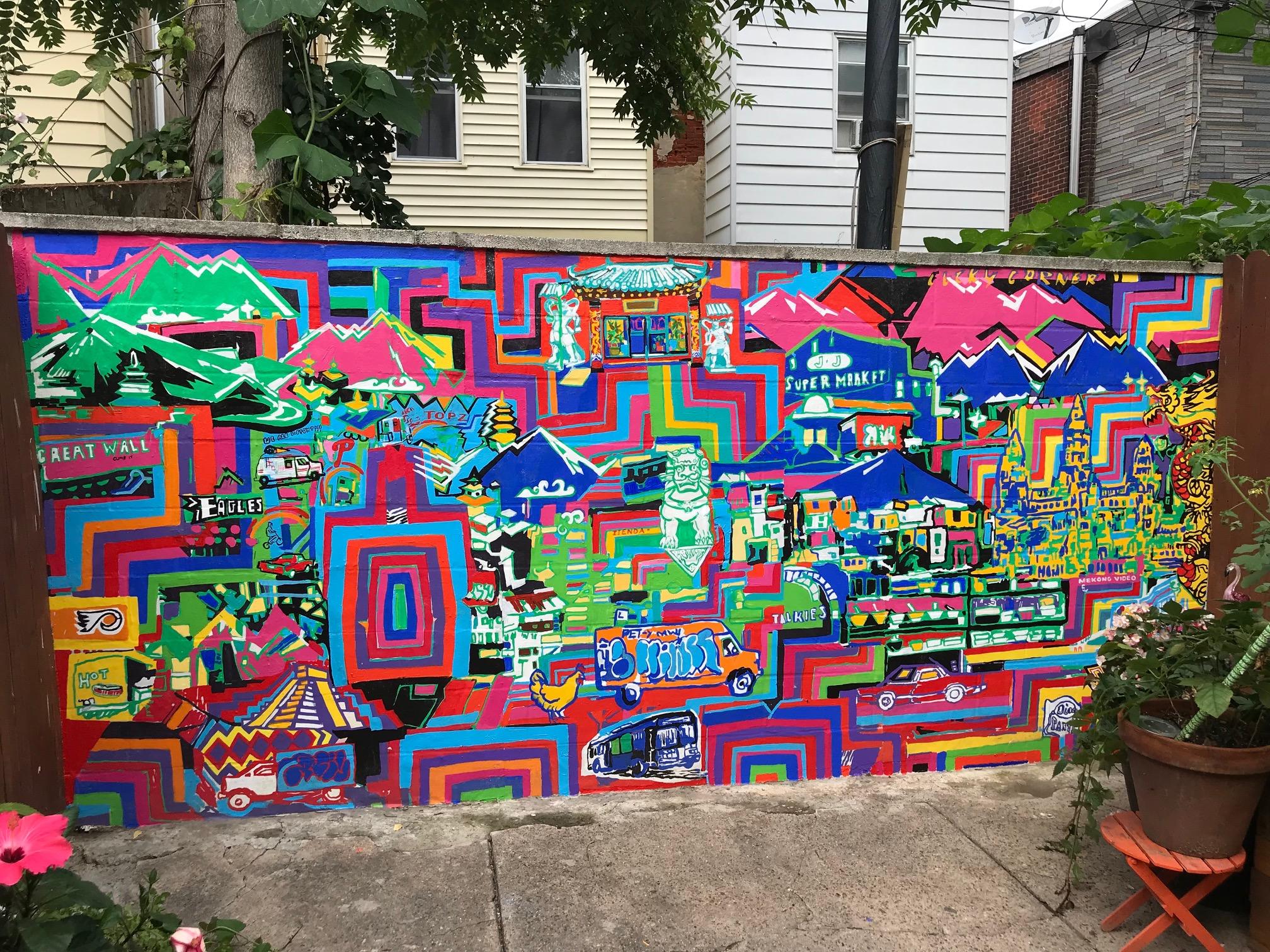 Trucks and Temples, Mountains and Eagles
This is a private commission. The mural depicts spaces, symbols, businesses, monuments and mountains in South Philadelphia and the monuments and mountains families bring with them in their roots to other home spaces and places. Ancient temples and graffitied trucks exits together in this crowed space. This is commissioned by a couple who went to Italy on their honey moon- houses on the Italian coastline are embedded in here too.
Mapping Migration
Mapping Migration is located at 10th and Dickinson Streets, in South Philadelphia. The mural is a loose interpretive map. At the bottom on the far right is Mifflin Square Park and the Preah Buddha Rangsey Temple at 6th and Ritner. There are typical South Philly doorways depicted and the Maneki-neko lucky cat. You can find a Meso- American pyramid and a bowl of Pho. Moving up up towards the top of the mural you will find Vinny's vegetable and fruit truck and the Italian and Mexican market. You can find a cedar of Lebanon and a variety of flowers. At the very top of the mural is Washington Ave where you will find a few cars and a Vietnamese restaurant. The mural celebrates the history and changing layers of immigrant, migrant and refugee communities in South Philadelphia.
East/ West 21 Bus Line
This temporary mural located at the Philadelphia Airport depicts the 21 bus line in Philadelphia. It notates neighborhoods, shops and moments on the bus and observations in the city.
47 Stories
47 Stories is a series of interviews of people on the 47 bus route and 47 septa bus wrap. The route travels from South Philadelphia to Olney it is one of the most diverse bus routes in the city. The project encourages riders to go to a stop beyond their normal route to learn more about their city and neighbors. It is a temporary project in collaboration with Laura Deutch through the Philadelphia Mural Arts Program.
47 Stories
http://digital.olivesoftware.com/Olive/ODN/PhiladelphiaInquirer/shared/ShowArticle.aspx?doc=PHQP%2F2016%2F12%2F14&entity=Ar01705&sk=0445C82D
http://planphilly.com/articles/2016/12/06/47-stories-connecting-cultural-communities-via-bus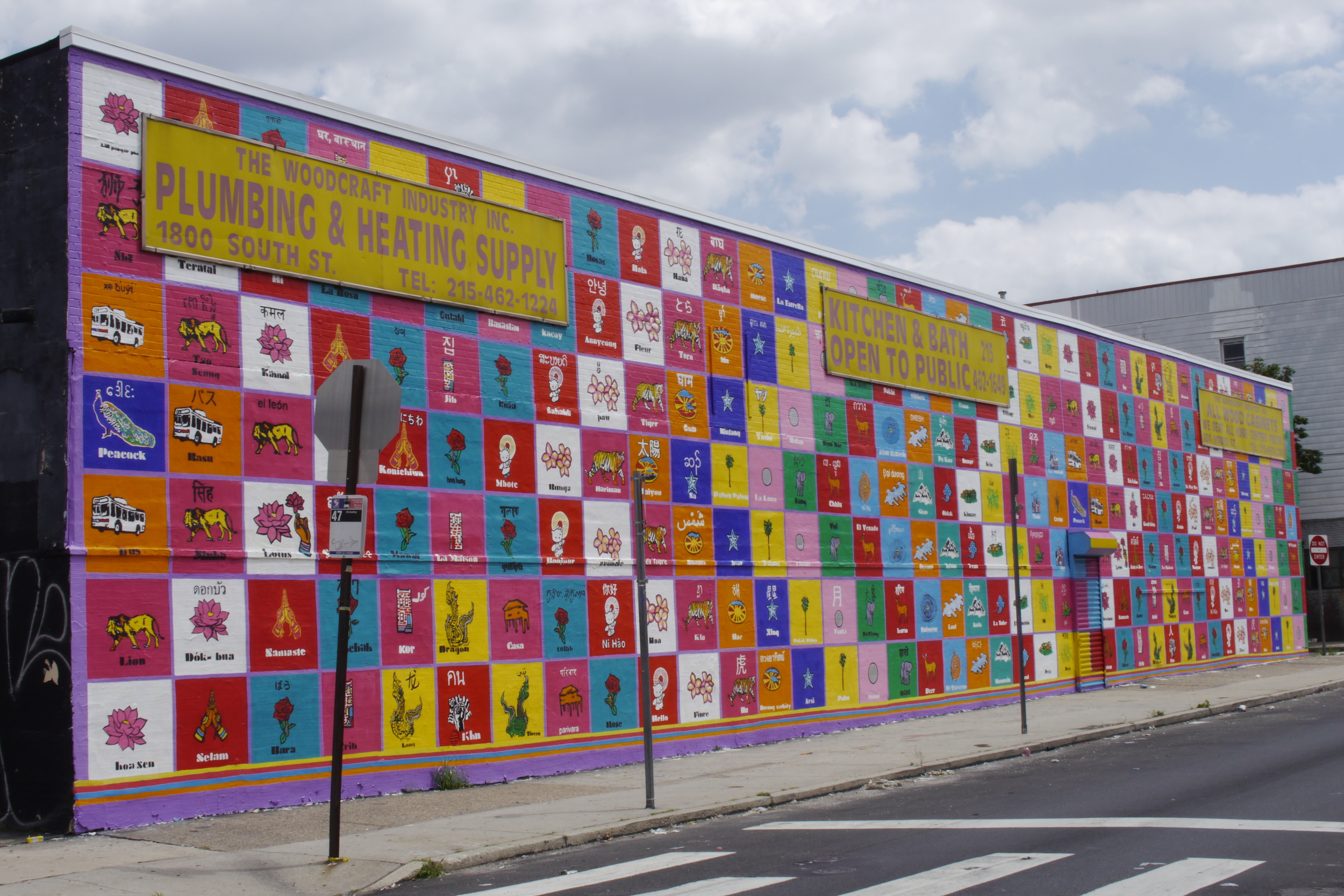 Language Lab mural 7th and Moore Street Philadelphia Pa
You can wait for the 47 bus and learn a word in one of the many languages spoken in South Philadelphia!!!
Language Lab detail
Language Lab is located at 7th and Moore streets in South Philadelphia. It is a mural which represents over 30 languages spoken in South Philadelphia. You can wait for the 47 bus and learn a new word.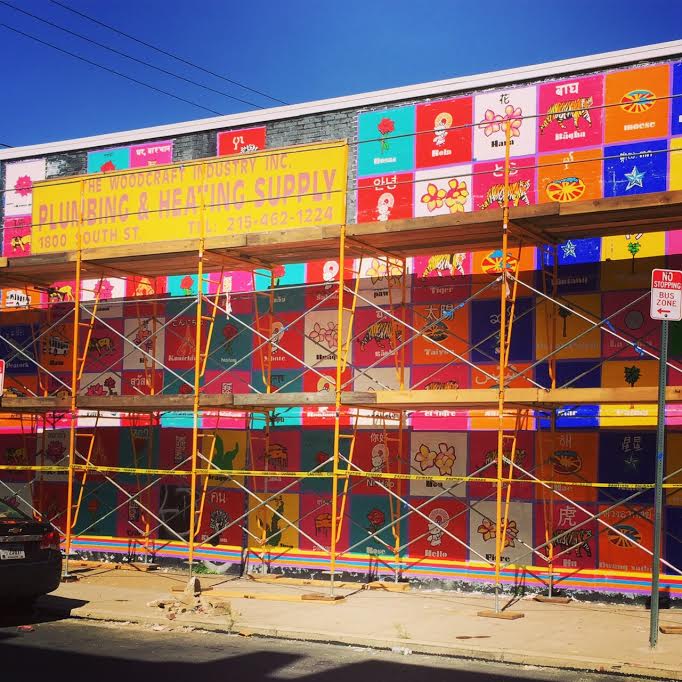 Language Lab in progress
Language Lab mural in progress, 7th and Moore. This mural was created in conjunction with Karen, Cambodian and Indonesian communities in South Philadelphia.
El Chilito Loco
A mural located at 8th and Jackson in South Philadelphia on the restaurant El Chilito Loco, marking Mexican migration from Pueblo State to Philadelphia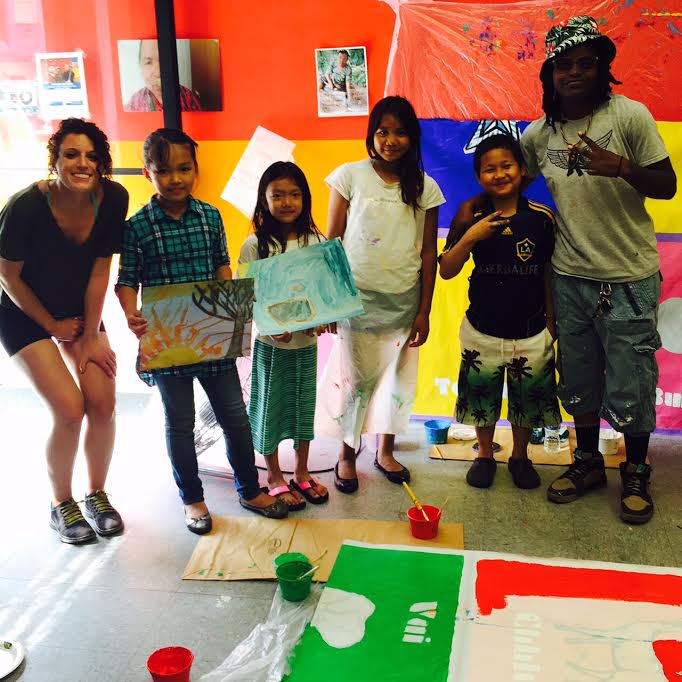 Painting crew! Language Lab
Expanding Installation
Mural Installation 222 Vine Street
Storefront mural
This mural is derived from Karen Burmese textiles. It is located at the first Southeast By Southeast storefront at 7th and Dudley Streets ihn South Philadelphia
Southeastbysoutheaststorefront grates
Southeastbysoutheast mural series
Southeastbysoutheast mural series
This series of murals are on grates located near 7th and Snyder. The color is reflective Burmese and Bhutanese textiles but the stripes respond to surrounding signage. The murals are located on what appears to be an old silent movie theater. Look up close and you can see the word talkies really faintly from the Snyder Street side.
Mountains to the City
This mural describes the path of families from Burma and Bhutan from the Mountains to the City. The mountain is such a powerful symbol for the Karen people of Burma. (Though this mountain is a woodcut and does not look exactly like the Karen mountain) The Karen mountain was where families lived for generations. Parents tell their children one day we will go back there. The house on the left is a refugee house, the city in the foreground brings a lot of opportunities and also unknowns. This mural is connected to Southeastbysoutheast a storefront project working to provide art and educational opportunities to new refugees from Burma and Bhutan.
Mountain Temple
This is a temporary mural installation at Asian Arts Initiative. It is part of the exhibit of Shira Walinsky solo work and Southeastbysoutheast.
Farming up the Mountain in Philadelphia
This mural is located at 8th and Emily streets in Philadelphia. It is located next to Growing Home the most amazing refugee garden. I say amazing because it is extremely active. On a summer day you will see all family members working together. The families who use the garden are from Burma and Bhutan.
Home Safe Journey to home
Designed jointly with Ernel Martinez, Home Safe is constructed from collage material and life maps created with women from Gloria's Place a temporary housing space for women and children. This is part of a larger project Journey2Home a socially engaged public art project about housing insecurity for youth.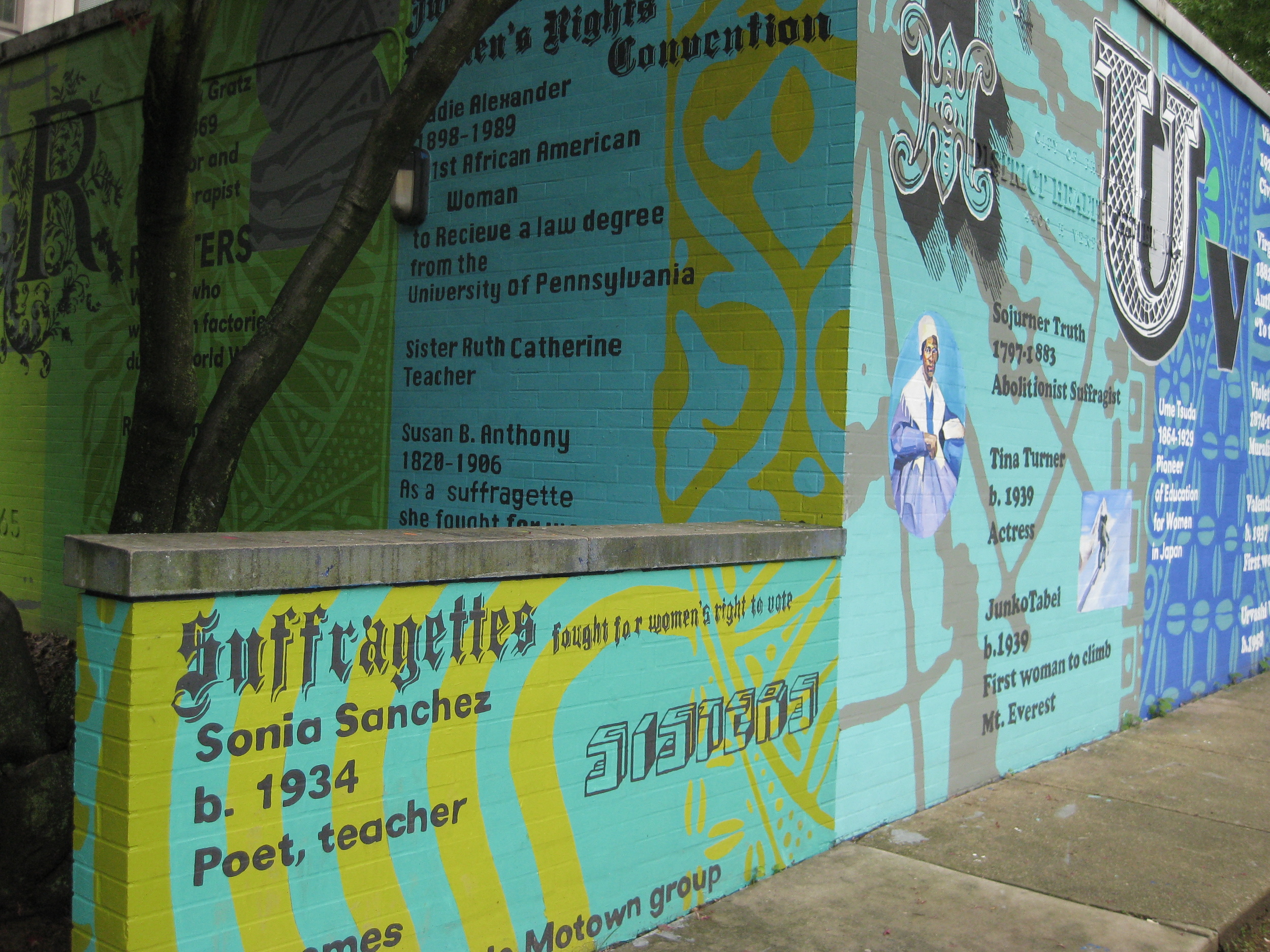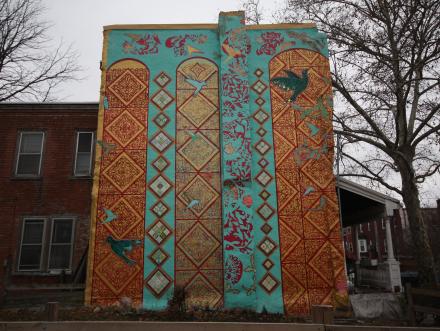 Ethiopian Garden
Located at 44th and Ludlow in West Philadelphia. This mural was created in conjunction with Joe Brenman and Big Pictures Mural Art in Philadelphia, a class at the University of Pennsylvania. The mural can still be seen but a developer has built a new house in front blocking.